| | | |
| --- | --- | --- |
| 2022-01-13 | | | Made in Japan YAMAGATA 1989–2021 |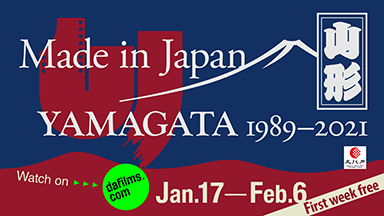 Available on DAFilms.com from January 17–February 6
First week for free! Almost worldwide excl. Japan
YIDFF Launches Program with Streaming Service DAFilms, Accessible For Free and With Focus on Films From the Festival's History
The Yamagata International Documentary Film Festival partners with streaming service DAFilms, the VOD platform of the festival association Doc Alliance, for an online program available free for one week and on SVOD and TVOD for a further two weeks. The selection by YIDFF programmers highlights key works from the festival's more than three decades in existence.
The ten films in Made in Japan, Yamagata 1989–2021 trace a curious and inspiring pathway through the history of YIDFF with this first-time online extension of its past programming.
[Period]
January 17–February 6


[Line-ups]

The program is bookended by a cinematic record of the inaugural YIDFF in 1989, produced by Ogawa Shinsuke's Ogawa Pro (A Movie Capital), and a 2021 documentary about the pandemic-induced closure of a traditional pickle shop, itself a memorable and important social space for the attendees of Yamagata every two years (Pickles and Komian Club). In between are eight Japanese documentaries reflecting the diversity of programming from the past three decades.

A Movie Capital


Dir: Iizuka Toshio/ 1991 / 98 min / YIDFF '91 Special Invitation


Living on the River Agano


Dir: Sato Makoto / 1992 / 115 min / YIDFF '93 Award of Excellence


The Weald


Dir: Kawase Naomi / 1997 / 73 min / YIDFF '97 International Competition


The New God


Dir: Tsuchiya Yutaka / 1999 / 99 min / YIDFF '99 New Asian Currents


A2


Dir: Mori Tatsuya / 2001 / 131 min / YIDFF 2001 Special Prize, Citizens' Prize


The Cheese and the Worms


Dir: Kato Haruyo / 2005 / 98 min / YIDFF 2005 Ogawa Shinsuke Prize, FIPRESCI Prize


Dear Pyongyang


Dir: Yang Yonghi / 2005 / 107 min / YIDFF 2005 Special Prize


Storytellers


Dirs: Sakai Ko, Hamaguchi Ryusuke / 2013 / 120 min / YIDFF 2013 SkyPerfectTV IDEHA Prize


Cenote


Dir: Oda Kaori / 2019 / 75 min / YIDFF 2019 New Asian Currents


Pickles and Komian Club


Dir: Sato Koichi / 2021 / 105 min / YIDFF 2021 Yamagata and Film




Program trailer YouTube: Made In Japan YAMAGATA 1989-2021

[Presented by]

Yamagata International Documentary Film Festival (NPO)

[Commissioned by]

the Agency for Cultural Affairs, Government of Japan

[In cooperation with]

DAFilms


About DAFilms
The International VOD platform DAFilms began as one of the main projects of Doc Alliance, a creative partnership between 7 of the major European documentary festivals that has lasted 15 years. As a consequence, DAFilms can boast of an unparalleled collection of more than 2,500 festival films, a catalogue built up in close association with some of the most prestigious documentary institutions in the world and which sets it apart from platforms with a shorter lifespan in the world of VOD and festival acquisition.