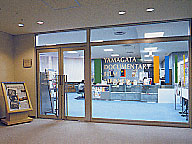 The YAMAGATA Documentary Film Library was established to collect and preserve films from the YAMAGATA International Documentary Film Festival, among others. It is available for the convenient use and appreciation of citizens and film lovers. The library has a full complement of facilities including a theater, individual video booths and related printed materials.
---
Video Booths

Works submitted to the YIDFF can be viewed free of charge at one of the five video booths.


Library Corner

The library corner has a large collection of film literature available to the public. While there is no fee for use of the library, materials may not be borrowed.
The theater is fully equipped with 40 seats, both a 16mm and 35mm projector, a video projector, and a 5.1-channel surround sound audio system. Seating is spacious and relaxed to allow viewing in maximum comfort. A fee is charged for the use of this facility.
The YIDFF Organizing Committee holds screenings twice a month (the 2nd and the 4th Friday), which mainly show films which are not shown at the commercial theater such as documentary films including the Film Library Collection films, pre-war Japanese films, master pieces, independent, experimental films, and animation at the 40-seat theater. "Kanshokai" members can join the Friday Theater for free. Anybody is able to join the Kanshokai.
---
Library Hours

10:00–17:00

Closed

Mondays, Tuesdays (excluding public holidays), New Year's holidays
---
For more details on the Library:

YAMAGATA Documentary Film Library
100 Hirakubo, Yamagata City 990-0076 JAPAN
phone: 81-23-635-3015 fax: 81-23-635-3030 e-mail: library@yidff.jp


For more details on the Friday Theater:

Yamagata International Documentary Film Festival (NPO) (Yamagata Office)
#201, 9-52 Kinomi-cho, Yamagata City 990-0044 JAPAN
phone: 81-23-666-4480 fax: 81-23-625-4550 e-mail: info@yidff.jp