Politics and Film: Palestine and Lebanon 70s–80s
---
• October 6–10 [Venue] Yamagata Citizens' Hall (Small Hall)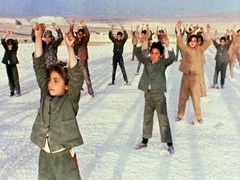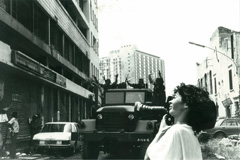 Many films about Palestine and Lebanon were filmed in the 1970s and 80s—the era of the 1967 Six-Day War and the subsequent Lebanese Civil War.
In this program, Part 1: Palestinian Revolution and Militant Cinema features a group of films produced by the Palestine Film Unit (PFU, later the Palestinian Cinema Institute) set up by the Palestinian Liberation Organization (PLO) in Jordan in 1968, and films made in solidarity with Palestine by international filmmakers. Their films allow us to trace their struggle with politics and cinema by trial and error. In Genet in Shatila (1999), a later film that examines this period, the Swiss filmmaker Richard Dindo, who experienced the "May Revolution" in 1968, traces the footsteps of Jean Genet's solidarity with Palestine. In Off Frame aka Revolution until Victory (2016), the Palestinian filmmaker Mohanad Yaqubi, born in the 1980s, considers "militant cinema" and its era. After the screening of The Red Army / PFLP: Declaration of World War (1971), a talk session will be held with Adachi Masao, director of the film, and Mohanad Yaqubi, both knowledgeable of Palestine's past and present. Their discussion should yield a new perspective on the future.
Part 2: Jocelyne Saab's Lebanon and Beirut presents early works depicting Lebanon and Beirut by leading Arab filmmaker Jocelyne Saab. Lebanon drastically changed because of the Civil War that broke out in 1975, resulting in destruction and violence that lasted for the 15 years until its conclusion in 1990. In four early films, Saab captures on camera how her hometown of Beirut was transformed, using her extraordinary intelligence and energy. After the Civil War ended, Saab directed Once Upon a Time in Beirut: The Story of a Star (1994) in commemoration of the establishment of Cinémathèque nationale du Liban. This is the first retrospective in Japan of her early works retaining her lost Beirut.
---
Part 1: Palestinian Revolution and Militant Cinema

Fatah: Palestine

Dir: Luigi Perelli / ITALY / 1970 / Italian / 80 min

•

Oct. 6 15:30

Off Frame aka Revolution until Victory

Dir: Mohanad Yaqubi / PALESTINE, FRANCE, QATAR, LEBANON / 2016 / Arabic, English, French, Italian / 62 min

•

Oct. 7 14:40

The Red Army / PFLP: Declaration of World War

Dir: Adachi Masao / JAPAN / 1971 / Japanese / 71 min

•

Oct. 7 16:25

Talk: Adachi Masao, Mohanad Yaqubi


Revolution until Victory aka We are the Palestinian People

Dir: Pacific Newsreel / USA / 1973 / English / 52 min


L'Olivier

Dir: Groupe Cinema Vincennes (Ali Akika, Guy Chapoullie, Daniele Dubroux, Serge Le Peron, Jean Narboni, Dominique Villain) / FRANCE / 1976 / French, English, Arabic, Hebrew / 83 min

•

Oct. 8 10:30

One Hundred Faces for a Single Day

Dir: Christian Ghazi / LEBANON / 1971 / French, Arabic / 65 min

•

Oct. 8 13:25

The Fifth War

Dir: Monica Maurer, Samir Nimer / GERMANY, IRAQ / 1980 / English / 65 min


Kufur Shuba (Title was changed from Palestine Today) Dir, Editing: Samir Nimer / IRAQ, LEBANON / 1975 / Arabic / 36 min

•

Oct. 9 10:30

Genet in Shatila

Dir: Richard Dindo / SWITZERLAND / 1999 / French, Arabic, English / 98 min

•

Oct. 10 10:30

Here and Elsewhere

Dir: Jean-Luc Godard, Anne-Marie Miéville, Jean-Pierre Gorin (original footage in 1970) / FRANCE / 1976 / French, Arabic, German / 55 min

•

Oct. 10 13:00



Part 2: Jocelyne Saab's Lebanon and Beirut

Beirut, Never More

Dir: Jocelyne Saab / LEBANON / 1976 / English, Arabic, French / 36 min


Letter from Beirut

Dir: Jocelyne Saab / LEBANON / 1978 / English, Arabic, French / 52 min


Beirut, My City

Dir: Jocelyne Saab / LEBANON / 1982 / Arabic, French / 38 min

•

Oct. 6 17:40

Lebanon in Turmoil

Dir: Jocelyne Saab / LEBANON / 1975 / French, Arabic / 75 min

•

Oct. 7 19:20

Once Upon a Time in Beirut: The Story of a Star

Dir: Jocelyne Saab / LEBANON, FRANCE, GERMANY / 1994 / French, Arabic, English / 104 min

•

Oct. 9 19:20