BETWEEN YESTERDAY & TOMORROW Omnibus 2011/2016/2021
---
JAPAN / 2021 / Japanese / Color / Digital File / 64 min

Producer: Maeda Shinjiro
Directors: Ikeda Yasunori, Oki Hiroyuki, Suzuki Hikaru, Takashi Toshiko
Source: SOL CHORD
This film is a follow-up to BETWEEN YESTERDAY & TOMORROW Omnibus 2011/2016, screened at YIDFF 2017. As a new short film compendium, it crystallizes the past ten years as confronted by each of its four filmmakers. A collection of films that tirelessly urges viewers toward freedom and thought as the respective everyday experiences gathered here intertwine while moving back and forth in time.
---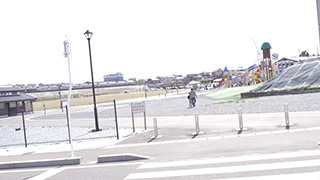 [Director's Statement] The omnibus film BETWEEN YESTERDAY & TOMORROW, a collection of short films made according to a shared set of instructions, was first screened at the YIDFF 2011. Five years and then again ten years after the Great East Japan Earthquake and Tsunami, I again asked four filmmakers to make films based on the same set of instructions. The result is a human document that confronts both an "unknown tomorrow" and a "bygone yesterday," a polyhedron representing the "passage of time over ten years" around the axis of a twelve-day period.
Maeda Shinjiro
Maeda has been supervising director of the SOL CHORD DVD label since 2005. He also engages in collaborations with artists working in theater, visual art, and other fields.
Ikeda Yasunori
Ikeda explores narrative expression through photographic practice, as in 3 Portraits and JUNE NIGHT (2009–2014).
Oki Hiroyuki
Oki is a film director who is also actively engaged in the field of contemporary art. He has taken part in the Aichi Triennale 2016 and the Tokyo Biennale 2020/2021, among other events.
Suzuki Hikaru
Suzuki's activity was based in Germany for six years from 2012. Since returning to Japan, he has been an organizer of the "Experimental Film Culture" screening series, among other events.
Takashi Toshiko
Takashi began making films after having served as an assistant director to filmmaker Fukuda Katsuhiko and as director of the Tokyo International Lesbian and Gay Film Festival. In recent years she has continued work on her Itami Series.