Transform!
(Henshin!)
---
JAPAN / 2020 / Japanese / Color / Digital File / 93 min

Director, Editing, Producer: Ishida Tomoya
Photography: Honda Megumi
Sound, Producer: Fujiwara Riho
World Sales: Pia Film Festival
A director ponders his own body, with its disabilities while filming others. When his fingers come into contact with the fingers of others, when his body starts to move in mutual interaction with the bodies of others, "disability" itself becomes a soaring form of expression. This film expands the limits of cinema, seeming to explore with simple honesty the basic question, "what is cinema?"
---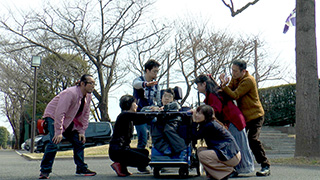 [Director's Statement] Making this film was a process of confronting questions that I had previously feared and left untouched. Proceeding with uncertainty and swayed by the words that people offered me, I encountered others through the camera and, in the process, gradually changed myself. I found myself becoming a subject of my own film as I became absorbed in the act of expression through the body. Little did I expect that this process, which began as a project about coming to know others, would end up introducing me to various sides of myself of which I had been unaware.

Ishida Tomoya
Born in 1997. Graduate of, and a current master's program student in, the Department of Body Expression and Cinematic Arts in the Faculty of Contemporary Psychology at Rikkyo University, where he is a student member of a media production seminar. He plans and coordinates the "Barrier-Free Movie Screening" group. His research as a graduate student looks at the changes that occur in body perception and perception of disability among creators through their work, including the process of bringing a work to audiences.