Ushiku
---
Japan / 2021 / Japanese, English / Color / Digital File / 87 min

Director, Photography, Editing, Producer: Thomas Ash
Music: Jack, Komitetsu
Source: Thomas Ash
A film about foreign nationals held in long-term detention by Japan's Immigration Services Agency. Many applicants for refugee status are held indefinitely, awaiting judgement in an inhumane system that in some cases leads them to suicide. Some have even died in detention from illness, denied appropriate medical treatment. This film details conditions at this state-run facility: how authority is exercised and how human dignity is easily violated.
---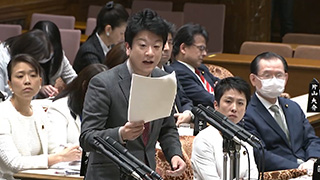 [Director's Statement] When I visited the East Japan Immigration Center in Ushiku as a volunteer, I was strongly affected by the stories I heard from people detained there and began to think that I wanted to communicate these stories to Japanese citizens and to the world. My motivation was not to make a film. As a witness to human rights violations, I felt a sense of duty to produce evidence by filming the testimonies of those held captive and documenting their truth.

Thomas Ash
Ash has until now made films that have taken up problems related to health and medical care. His prior films include A2-B-C (2013, YIDFF 2013), a feature documentary about children living near the area contaminated during the Fukushima Daiichi nuclear power plant accident, and Sending Off (2019), which focuses on people confronting death.