Whiplash of the Dead
(Kimi ga shinda atode)
---
JAPAN / 2021 / Japanese / Color / Digital File / 200 min

Director, Editing, Producer: Daishima Haruhiko
Photography: Kato Takanobu
Music: Otomo Yoshihide
Source: Daishima Haruhiko
Yamazaki Hiroaki lost his life on October 8, 1967, in the First Haneda Struggle opposing the Vietnam War. Seeking out the voices of his former classmates and bereaved family, this film records their memories of both remorse and inspiration at Yamazaki's death, and of how they themselves plunged into student activism. Through their individual testimonies, the film forces the audience to look deep into their hearts and ask what they themselves might have done then, or now.
---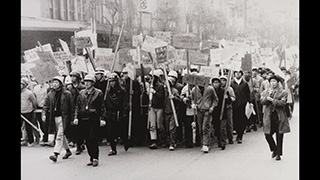 [Director's Statement] I have produced a series of "memory films." Each take as their subject the movements in dissent of state power that occurred in Japan between the 1960s and 70s. The movements were incited by two central issues: Japan's war responsibility in Asia after its WWII defeat and Japan's subordination to the United States written into the San Francisco Peace Treaty. This film is the third installment in the series. An 18-year-old college student died in the anti-Vietnam war protests. What would he think if he could see the state of Japan today?

Daishima Haruhiko
Born in 1958 in Saitama Prefecture. His film The Fall of Icarus: Narita Stories (2017) received the Mainichi Film Award for Best Documentary. He is also the director of Regarding the Lives of Others (2010, YIDFF 2011), The Wages of Resistance: Narita Stories (2014, YIDFF 2015), and The Last Live of Takada Wataru (2017).