Festival Venues
---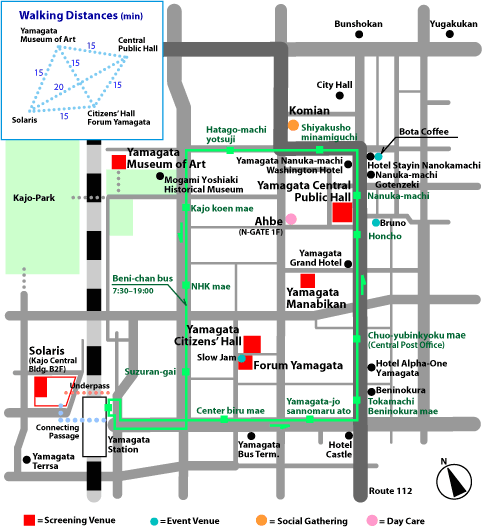 Access to Yamagata City
Yamagata Central Public Hall 6F
600 seats
Opening Ceremony, International Competition, Juror's Films, Special Invitation Films, Awards Ceremony, Awards Film Screening, and more
Yamagata Citizens'Hall (Large Hall)
1,202 seats
International Competition, Juror's Films, Awards Film Screening
Yamagata Citizens'Hall (Small Hall)
300 seats
AM/NESIA: Forgotten "Archipelagos" of Oceania, Double Shadows 2
Forum 5
200 seats
New Asian Currents, New Asian Currents Special Invitation Films, Yamagata Creative Cities International Conference 2019
Forum 3
162 seats
New Asian Currents, New Asian Currents Special Invitation Films, Yamagata and Film
Solaris 1
248 seats
Rustle of Spring, Whiff of Gunpowder: Documentaries from Northeast India, Reality and Realism: Iran 60s–80s, Perspectives Japan, Finnish Saunas and Film, Special Invitation Films
Yamagata Museum of Art 1
150 seats
The Creative Treatment of Grierson in Wartime Japan, Yamagata and Film, Rustle of Spring, Whiff of Gunpowder: Documentaries from Northeast India, Juror's Films, Special Invitation Films
Yamagata Museum of Art 2
150 seats
Cinema with Us, Yamagata and Film, Yamagata Rough Cut!, YIDFF Network Special Screenings
Yamagata Manabikan
Tamokuteki Room
50 seats
Yamagata and Film, YIDFF Network Special Screenings
Yamagata Central Public Hall, Yamagata Citizens' Hall, Forum Yamagata, Solaris, Yamagata Museum of Art and Yamagata Manabikan are equipped with handicapped-accessible restrooms. Those accompanying audience members carrying a certificate of physical or mental disability (shogaisha techo or ryoiku techo) may purchase same day tickets at the advance price of ¥1,100.
Festival-goers attending screenings at Forum Yamagata can use the cinema parking lot for up to 4 hours for 200 yen.
---
Information Desks

Your gateway to the festival at Yamagata Central Public Hall (the AZ building) main entrance and Yamagata Station.
---
Komian Club

A gathering place for festival guests and fans. This traditional Japanese restaurant in a renovated kura building will be the spot to socialize during festival evenings. All are welcome!

[Date] October 11 (Fri)–16 (Wed) 22:00–2:00
[Place] Komian Maruhachi
[Admission] 500 yen (includes one drink and snacks)
---
Day Care Information

[Childcare Availability] October 11 (Fri)–16 (Wed) 9:00–16:30
[Place] N-GATE 1F
[Cost] 500 yen for the first hour, 250 yen for each additional half-hour (Limit: 7 and a half hours on October 11,15,16; 4 hours on October 12–14)
[Ages] 6 months to preschool (6 years)



Advance registration and reservation are required. Contact us for details.
phone: 023-615-1930 (Kosodate-Land Ahbe)
Present your Kosodate-Land Ahbe member cards at the Film Festival site Reception Desk. Advanced reservations required.