A Reunion of Taiwan and Japanese Filmmakers: 12 Years Later
Lo Shin-chieh


Goes by the alias A-kai. Has continued to participate in political activities with the Taiwanese opposition, using video and photographs to record political incidents and social movements with a sense of light humor.
Wang Hsiu-ling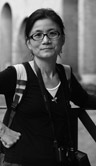 Born in Tainan. Originally entered film production, now her raison d'être, with the help of her younger sister. Continues to produce labor and political activist films with her personal and professional partner, A-kai.

Q&A after the Screening
---
Funny Competition between Labor and Management: You Have Me in You
---
TAIWAN / 1998 / Taiwanese, Mandarin / Color / DVCAM / 136 min

Director, Photography: Lo Shin-chieh
Script, Editing: Wang Hsiu-ling
Source: Akai Image Productions Co.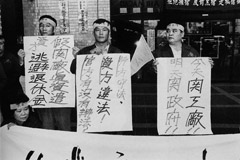 Caught off-guard by the unexpected closure of their factory, employees hastily form a union. Through the meek voice of a housewife who is appointed leader, the workers attempt to exercise their rights. Men in suits visit from the government and political parties to make speeches. The film captures the complicated nature of labor disputes with a wry sense of humor. This film was screened at New Asian Currents, YIDFF 1999.
---
A Gift for Father's Day—The Tragedy of Hsiaolin Village, Part 1
---
TAIWAN / 2011 / Taiwanese, Mandarin / Color / Blu-ray / 90 min

Directors, Sound: Lo Shin-chieh, Wang Hsiu-ling
Photography: Lo Shin-chieh
Script, Editing, Producer: Wang Hsiu-ling
Music: Panai Kuhuei
Title Writing: Liu Feng-yo (Survivor from Hsiaolin Village, age 9)
Production Company: Akai Image Productions Co.
On August 8, 2009, Typhoon Morakot struck Taiwan. Hsiaolin Village in Kaohsiung was wiped out by landslides, killing 410 people. Shoddy construction of the Tsengwen Reservoir was blamed for the damage, and the government was held responsible. Disputes over compensation, divisions, and unrest caused by the proposed resettlement plans—the filmmakers observe all.