New Asian Currents
---
New Asian Currents Special Invitation Film
---
Jurors
[MALAYSIA]
World without Shadow
Wayang Rindukan Bayang
---
MALAYSIA / 2011 / Malay / Color / Blu-ray (SD) / 90 min

Director, Script, Editing: Khoo Eng Yow
Photography: Jeffrey Loh
Music: Kumpulan, Sri Cahaya Kg Laut, Sri Campuran, Sri Kebakat
Executive Producer: Amir Muhammad
Producer: Fahmi Fadzil
World Sales: Da Huang Pictures Sdn Bhd
www.shop.dahuangpictures.com

In the Malaysian state of Kelantan, tossed about by politics, the shadow-play art known as Wayang Kulit marks a steady decline. Though it had coexisted with Islam since the 13th century, it has been repressed in recent years, and the number of shows is decreasing. The director carefully follows shadow puppeteers and the musicians who taste the hardship of life in the space between politics and art, who take on second jobs while continuing to perform shadow plays. Both in a performance piece satirizing the situation and in the story of the shadow play (which merges into the film itself), puppets play important roles.
---

[Director's Statement] The longer I stay in the entertainment/performing circle, the more I feel the heat from political policies that jeopardize the performing arts. Slowly, slowly, our desire to express ourselves through performance is dying.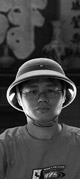 Khoo Eng Yow
Born in Taiping, Malaysia, Khoo Eng Yow was an engineer by training. His interest in still photography led him to his full-time profession as a film editor. Having edited other filmmakers' works, Khoo started making his own from 2002. He enjoys the freedom of form and style in independent filmmaking. The grittiness of real lives is always evident in his films, as seen in his award-winning short film Railway Steps (2002, Malaysian Video Awards, Bronze Medal), his docudrama Ah Kew the Digger (2004), and his fiction feature debut, The Bird House (2006). He is currently based in Kuala Lumpur.

Interview