iRAN / 1998 / Persian / Color / 35mm/ 35 min

Director: Mahvash Sheykh-al-Eslami
Photography: Morteza Poorsamadi
Editing: Abass Ganjavi
Music: Atabardi Vojdani
Source: Iranian Young Cinema Society
Ghandi Ave. 19th St. No. 20, P.O. Box 15175/163, Tehran IRAN
Phone & Fax: 98-21-8795675
---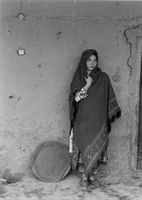 M. Sheykh-al-eslami

Born in 1946. Graduated from London Film School, directing many fiction films and documentaries. Her directing experience includes:
Dear Uncle Napoleon (1975), Hezardastan, Sarbedaran, Mirza Kochak Khan. Her documentary films are: The Ball (1973), Hygene, The Ghirokazerin Earthquake, Kangan, White Garments(1996), and The Hands (1997).


In a village at the foot of a breathtaking mountain range lives Altina, a young woman who is expecting a baby. In the daily rhythm of her quiet and solitary life, breeding silkworms and doing housework, she feels at peace with herself and the world. Ever waiting for her long-absent husband to return, her belly is growing. Her silkworms eat away a room-full of mulberry leaves - and are nurtured just like her anticipation for the coming child.
---
Director's Statement
The village "Yel cheshme" is where the film was photographed. Being there led me to understand the loneliness of women, and the silence of mountains better. A kind of silence and calm which teaches us to be powerful against difficulties. Documentary filmmaking causes us to find out these virgin places and isolated people.