Part 2: Jocelyne Saab's Lebanon and Beirut
---
---
This program features five early works of leading Arab filmmaker Jocelyne Saab, from Lebanon. She started her career by documenting how the Lebanese Civil War (1975–1990) has changed her home city of Beirut. Depicted in Saab's films are destruction and loss in war, resistance to oppression, struggle against oblivion, and the strong will to maintain memory.

Jocelyne Saab's biography
---
Lebanon in Turmoil
Le Liban dans la Tourmente
---
LEBANON / 1975 / French, Arabic / Color / Digital File (Original: 16mm) / 75 min

Director: Jocelyne Saab
Journalist: Jorg Stocklin
Photography: Gérard Simon, Hassan Naamani
Editing: Philippe Gosselet, Marie-Jeanne de Susini
Major politicians and religious leaders appear one after another, talking about how Lebanon, consisting of a complicated balance of religious sects, has been dragged into civil war. This painstaking work Saab made early in her career calmly describes the changing situation, as we hear from individuals with various political affiliations including a Maronite bishop, the head of the Phalanges Party, a leftist journalist, a Sunni historian, a moderate rightist, a communist, an editor of a major newspaper, poet Etel Adnan, and Druze leader Kamal Jumblatt. It received the Arab Critics' Award.
---
Beirut, Never More
Beyrouth, jamais plus
---
LEBANON / 1976 / English, Arabic, French / Color / Digital File (Original: 16mm) / 36 min

Director: Jocelyne Saab
Text: Etel Adnan
The city of Beirut destroyed in the Civil War, people losing their homes, youngsters holding guns, and buildings in ruins. The camera carefully captures traces of the city, as essayist and poet Etel Adnan's texts depict the sorrow of loss. Saab's poetic and private documentary essay about a Beirut that used to be beautiful, but can no longer be reclaimed. It is the first work of her Beirut trilogy, followed by Letter from Beirut and Beirut, My City.
---
Letter from Beirut
Lettre de Beyrouth
---
LEBANON / 1978 / English, Arabic, French / Color / Digital File (Original: 16mm) / 52 min

Director: Jocelyne Saab
Photography: Olivier Gueneau
Editing: Philippe Gosselet
Sound Mixing: Paul Bertault
Songs: Oum Koulthoum, Marcel Khalife
Text: Etel Adnan
Starting with a scene of Saab writing a letter, the film shows, together with Etel Adnan's texts, the city of Beirut where war has become everyday life. Documentary and fiction coexist in the film, and their borderline slowly melts, vividly describing Lebanon's daily life being eroded by fictitious reality.
---
Beirut, My City
Beyrouth, ma ville
---
LEBANON / 1982 / French / Color / Digital File (Original: 16mm) / 38 min

Director, Photography: Jocelyne Saab
Editing: Philippe Gosselet
Music: Rafic Boustany
Sound Mixing: Paul Bertault
Assistant: Mirwan Khoury
Text: Roger Assaf
The film opens with Saab standing at her destroyed house and describing the situation. The history of the 150-year-old house and her life there were completely obliterated by air raids. Accompanied by a saxophone's melody and texts by Roger Assaf, the film portrays the injured, the ruins, air raids, sounds of gunfire, armored vehicles speeding through the city, and refugee camps. This film is a manifestation of Saab's powerful wish to continue remembering the lost Beirut.
---
Once Upon a Time in Beirut: The Story of a Star
Il était une fois Beyrouth, histoire d'une star
---

International Competition Juror's Film
Jocelyne Saab Filmography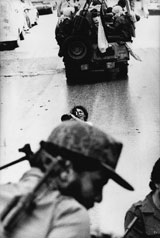 * The titles of works screened in this program are represented in bold.
1973 Portrait of Qaddafi
1975 Lebanon in Tumoil
1976 The Children of War
1976 Beirut, Never More
1977 The Sahara Is Not for Sale
1978 Letter from Beirut
1982 Beirut, My City
1985 A Suspended Life
1986 Egypt: The Architect of Luxor
1986 Egypt: The Ghosts of Alexandria
1986 Egypt: The Cross of the Pharaohs
1986 Egypt: The Love for God—Fundamentalism
1994 Once Upon a Time in Beirut: The Story of a Star
1997 Lady from Saigon
2005 Dunia: Kiss Me Not on the Eyes
2010 What's Going On?