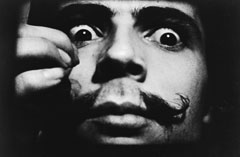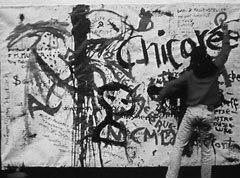 Chicory
Chicorée
---
SWITZERLAND / 1966 / No Dialogue / Color, B&W / 16mm / 27 min

Director, Script, Photography, Editing, Producer: Fredi M. Murer
Music: Jelly Pastorini
Appearances: Urban Gwerder, his wife Tina, his son Wanja
Source: Swiss Films
This is the first film in which Murer turns the camera on Swiss artists. It has no dialogue, and contains "11 episodes consisting of scattered fragments," staring the poet Urban Gwerder and his wife and son. The film is made up of both black and white and color segments, with the black and white depicting the poet's daily life and the color representing his desires. Gwerder dreams of becoming Dali, the Beatles, and Frank Zappa. He also creates a ritualistic fantasy world together with his family. Spaghetti becomes luxurious meat dishes. The dream controls all three of them as the go to town to shop as well. A peace march is taking place in town, but the protagonist walks alone facing the camera as the protestors walk facing away from it. The "supernatural" scenes reach their climax as action paintings created by the poet.
---
Bernhard Luginbühl
---
SWITZERLAND / 1966 / No Dialogue / B&W / 16mm / 23 min

Director, Script, Photography, Editing, Sound, Producer: Fredi M. Murer
Music: Irène Schweizer Quartet
Supported by: Stefan Portmann
Source: Swiss Films
Bernhard Luginbühl (1929–2011) was one of Switzerland's most famous sculptors, well known for his metal creations that used iron and other materials. Murer stayed at his house for 10 days, recording the artist's work and family life in an almost improvisational style, using jazz and a fragmentary, non-linear style of editing. Luginbühl's drawings change one after the other from snails to tanks to elephants. He leaves to pick up waste in his car, returning with random finds. Using his drawings as a base, he creates sculptures using the trash he finds. In the meantime, his wife makes dinner and his children play at cowboys and Indians. By connecting the details of work and home in fragments, Murer shows the continuity and equivalency of creative acts and the work of everyday life.
---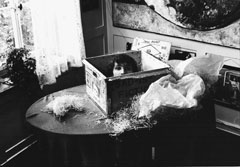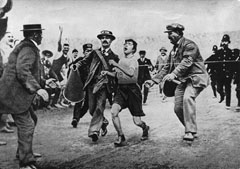 Sad-is-Fiction
---
SWITZERLAND / 1969 / Swiss-German, German / Color / 16mm / 43 min

Director, Script, Producer: Fredi M. Murer
Photography: Fredi M. Murer, Fritz E. Maeder
Editing: Renzo Schraner, Fredi M. Murer
Music: The Minstrels, The Coincidence
Voice, Appearance: Alex Sadkowsky
Source: Swiss Films
This experimental documentary follows Alex Sadkowsky, an avant-garde artist based in Zurich. Sadkowsky, wearing a rainbow shirt and shorts, walks throughout the entire film, whether he is in town, the countryside, a pasture, or inside a plane. He walks wherever he is, and while he walks he thinks, draws, and fantasizes. Walking is a means of both reflecting on and expressing oneself. Film is not capable of becoming an objective portrait of the artist. Sadkowsky plays himself as an actor, or perhaps as a fiction. The film as a whole is the process of his walking and his thoughts, and it is performance itself.
---
Vision of a Blind Man
---
SWITZERLAND / 1969 / French (Original: Swiss-German, German) / Color / Digital File (Original: 16mm) / 22 min

Director, Script, Producer: Fredi M. Murer
Supported by: Renzo Schraner, Christian Kurz
Source: Lichtspiel / Kinemathek Bern
This film is one of the more experimental in Murer's filmography. Most people think that movies are expressed through the image (sight) and sound (hearing). Almost as if he is trying to undermine this assumption, Murer himself wears special goggles to blind himself while filming in order to detect his object by sound rather than relying on his eyes. Filming took place in 1968 on the longest day of the year, stretching from 5 a.m. to 10 p.m. The assistants control the focus of the zoom lens and documents Murer's actions as he shoots. This unique experiment is not only a critique of media and communication that prioritizes vision, it can also be seen as a filmic experiment that portrays the gap that lies between sound and film.