Water and the Island
(Mizu to Hachijo-jima)
---
Director: Matsubayashi Yoju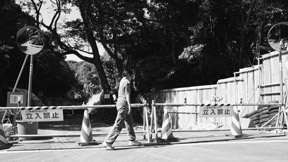 The mountains of verdant Hachijo Island. Plans have been announced to construct a waste disposal site close to the source of one of its rivers. Fear of water contamination inspires local citizens to organize a protest movement. The economic problems of an island that has no choice but to depend on public works projects. The complicated interpersonal relationships of the region. How will this film look upon the reality of this wavering island?
---
Fontanges
---
Director: Abe Masako

Fontanges, a small village of around 200 people in the Auvergne region of France. As the director continued to record the village during her visits, she encountered images of the village that had been taken over thirty years ago. The atmosphere, memories, seasons, and labor of a village whose population is dwindling. This project is an attempt to capture things that fade away and change, starting with the small tasks of everyday life.