Survival Confirmation
(Seizon kakunin)
---
Director: Takahashi Ryosuke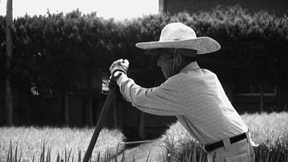 "Go check on your grandpa and grandma. See if they're still alive." My father would say these words every time I departed from our home in Tokyo. Ever since I entered university, I would travel alone to Miyako City in Iwate Prefecture during my summer vacation, to visit the home of my grandparents and record their everyday lives. This project has been going on for four years.
---
voyage
---
Director: Ikeda Sho

A record of the Bakurocho Band's tour in New York City. A conversation about the future, between a band member and his wife, who awaits the birth of their child. A fictional sequence of a man and a woman's final days living together. What kinds of horizons will emerge as these three different stories intertwine?
---
Moon in the Evening
(Yuugata no tsuki)
---
Director: Tanaka Kei

A housing complex in Kawasaki City, Kanagawa Prefecture, whose residents are all elderly people who live alone. The unknown lives of the people who reside there. This film fixes its gaze on women and men who live by themselves, who do not feel sorrow nor hatred in the face of the death that awaits them, seeing death instead as a condition for life.