Far from Afghanistan: The October Edition
---
USA / 2011 / English, Korean, et al. / Color / Blu-ray (HD)

Directors: John Gianvito, Jon Jost, Minda Martin, Travis Wilkerson, Soon-mi Yoo
Editors: Pacho Velez, Robert Todd
Producers: Steve Holmgren, Mike Bowes
Platform Producer: John Bruce
Production Coordinator: Matthew Yeager
Source: www.farfromafghanistan.org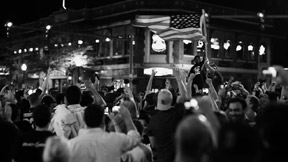 Launched in October 2001 as "Operation Enduring Freedom," the U.S. war in Afghanistan now marks a decade and at least 2,300 Coalition military deaths and over 10,000 wounded. U.S.-led forces have killed thousands of Afghan civilians in a country where 700 children and 60 women die each day from hunger and lack of health care.
Far from Afghanistan: The October Edition is a special presentation of Far from Afghanistan—an omnibus by a collection of filmmakers (including Travis Wilkerson, Jon Jost, and John Gianvito, who are scheduled to attend YIDFF 2011) who use a mosaic of approaches to explore issues of shared responsibility, history, and memory in an effort to help accelerate resistance to the war. The special edition, online and at YIDFF only, presents segments of the forthcoming film to mark the October 6, 2011, ten-year anniversary of the war in Afghanistan.
John Gianvito My Heart Swims in Blood
For his profile, see International Competition.
Jon Jost Empire's Cross
For his profile, see International Competition.
Minda Martin The Long Distance Operator
Martin is a director and producer of personal documentaries and narrative films that explore the underpinnings and disparities of social class in the United States. Her films include a.k.a. Kathe (2000), Monsoon St., '77 (2006), and Free Land (2009). She currently teaches at California State University, San Marcos.
Travis Wilkerson The Missing Chapter
For his profile, see International Competition.
Soon-Mi Yoo Untitled
Korean-born Yoo works with various media and genres, including photography, film, installation, and text, to explore marginalized histories. Her work has been exhibited at festivals internationally and galleries across the United States. Her films include ISAHN (2004), Dangerous Supplement (2006), and Pink (2011). Her photographs were published in Comfort Women Speak: Testimony from Sex Slaves of the Japanese Military in 2000.