Yunnan Visual Forum in Yamagata
Part 1
---
Part 2
Part 2:

A New Wave of Yunnan Images
---
Yunnan boasts a diverse natural ecosystem of which over eighty percent is occupied by mountainous terrain, and a multi-racial population where thirty percent of the population are from twenty-five different non-Han minority peoples. Here, where photogenic social and natural conditions have long invited outsiders to "take away images," a unique visual culture of its own is now beginning to bloom.
In addition to the issues of cultural identity among minority peoples introduced in the films of Part 1, recent documentaries are addressing a wide range of themes reflecting the changes in Yunnan society. The urbanization and growing migrant worker population of Kunming, the capital of Yunnan; problems of development filmed by environmental NGOs; conflicts between the tourism-induced cash-based economy and traditional value systems. Yunnan documentaries are seeing a broadening of topics.
Moreover, new visual styles are emerging, perhaps due to the rich backdrop of Yunnanese culture where poetry, song and dance are an integral part of life. Works by young filmmakers shown in the New Asian Currents program and films made by a poet and an anthropologist offer much to enjoy.
This new wave of Yunnan images is supported by Yunnan Multi Culture Visual Festival (YUNFEST), a groundbreaking film festival that took place in March 2005 in Kunming. Its Film Competition section featured fifteen documentaries selected from approximately 100 films across China; the Youth Forum showcased twenty-five rough and ready works that shone with fresh sensibility; and the Participatory Visual Education category introduced activist filmmaking in environmental conservation and ethnic education. Sixteen films from overseas were also screened, including Tsuchimoto Noriaki's Minamata documentaries.
The energy of the filmmakers and filmgoers alike combined to offer a glimpse of the future of Chinese documentary. For the first time, budding documentarists across China came face to face with the general public as an audience. The film critics, in support of visual creators who use digital video as their medium, re-confirmed their raison d'etre through the festival. Activists and academics alike were given an opportunity to passionately discuss the significance of social education and film in Chinese society.
In Yamagata, we will close the Forum with a report on YUNFEST and a symposium that will shed light on the Yunnan images and Chinese documentary today. We look forward to your attendance.
(Fujioka Asako)
---
Voice of an Angry River
---
2004 / Mandarin (Yunnan dialect) / Color / Video / 30 min

Director, Photography, Producer: Shi Lihong
Editing: Zhang Er
Production Company, Source: WildChina Film

There is great debate surrounding the planning of thirteen large-scale dams to be built upstream of the Angry River (Salween River). This film travels with residents of a planned construction site as they visit villagers of a completed dam site who barely survive by scavenging at a garbage dump. An activist-video shot by an environmental activist.
---
Foggy Valley
---
2003 / Mandarin, Hani / Color / Video / 45 min

Director: Zhou Yuejun
Photography: Zhou Yuejun, Li Ning
Editing: Ma Xiaomei
Hani translator, Singer: Gao Xiangming
Executive Producer: Wu Kexiang
Producers: Wang Dongming, Zou Jinkai
Production Company: Kunming Television
Source: Channelzero Media

Recently, Hani villages embedded deep within the mountains are seeing an upsurge of visitors who come to film beautiful terraced rice paddies and farmers in traditional ethnic clothing. When a television director arrives, everyone he meets demands a fee. This docu-drama reveals how tourism threatens to change the value system of a community.
---
Jade Green Station
---
2003 / Mandarin (Southern Yunnan dialect) / Color / Video / 122 min

Director, Script, Source: Yu Jian
Photography: Yang Kun, He Yuan, Yu Jian
Editing: He Yuan
Sound: Gu Tao
Music: Tony Overwater
Production: Mang Studio

In 1910, France built a railroad that connected its colony of Vietnam with Yunnan. Since then, the anonymous station in Yunnan has endured tumultuous social change, while sharing the weight of time and infinite darkness through the years with the local residents. A cine-poem created by celebrated poet Yu Jian.
---
"Mountaineers," "Harvest," "Food for the Buddha" and "Wild Flower Valley"
from the series A Legend of Kawakarpo
---
2005 / Tibetan / Color / Video / 116 min

Director, Producer: Guo Jing
Co-Director: Tshe Ring Sgrol Ma
Photography: Guo Jing, Tshe Ring Sgrol Ma
Production, Source: Azara Visual Workshop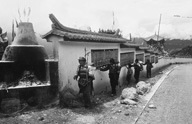 Mt. Kawakarpo is a sacred mountain worshipped by many Tibetans. Fascinated by this place since 1997, the director, putting aside his scholarly mindset as an anthropologist, visited the mountain many times as a pilgrim. He captured on film the daily lives of the local people, the pilgrims and the natural landscape. Four parts from this eleven-part 240-minute series will be screened.
---
Event Information
Musical Performance by Ito Satoru, folk instrumentalist
Report on YUNFEST 2005
Symposium A New Wave of Chinese Documentary
After a full day of films from Yunnan, how about a mini concert of Ito Satoru's ethnic music under Yamagata's autumn sky, in the inner courtyard of Café Sakura? We'll listen to the tune of the gourd flute, an ethnic Dai instrument, and sip Tibetan butter tea as we view the mountains of Yunnan with our mind's eye.
Music will be followed by a report on YUNFEST 2005. Our guests from Yunnan and the many young Chinese filmmakers who are with us at YIDFF will discuss the importance of a documentary film festival in China. What is the secret behind the inspiring rise of Chinese documentary in recent years? What about the criticism that filmmakers are only making films directed towards international film festival audiences? The symposium "A New Wave of Chinese Documentary" will feature such intriguing issues.

Music from Yunnan
Ito Satoru, a longtime friend of our Yunnan guests, studied under Dai musician and instrument craftsman Ngen De-quan and Yunnan Arts Institute Professor Zhang Xingrong while a student at Yunnan University. He visited villages of minority peoples in Yunnan, Burma, Laos and Thailand learning about music in their daily lives. Later he spent time in Chiang Mai, Thailand, studying and performing Lanna music. He is currently based in Japan, continuing his musical and research activities.