Notturno
---
ITALY, FRANCE, GERMANY / 2020 / Arabic, Kurdish / Color / DCP / 100 min

Director, Photography, Sound: Gianfranco Rosi
Editing: Jacopo Quadri
Editing Collaboration: Fabrizio Federico
Producers: Donatella Palermo, Gianfranco Rosi, Serge Lalou, Camille Laemlè, Orwa Nyrabia, Eva-Maria Weerts
Production Companies: 21uno Film, Stemal Entertainment, Rai Cinema
World Sales: The Match Factory
A visual ode of a documentary, for which the director spent three years researching and filming in the border areas around Iraq, Syria, Lebanon, and Kurdistan, including territories controlled by ISIS. His camera captures in fragments the figures of mothers who have lost their sons to prison, the plays still being rehearsed in psychiatric wards, and the drawings by children who have been deeply traumatized by ISIS' brutal acts. To watch the film's tranquil scenes is to be pulled into the darkness of memory unfurling beyond the frame, and look for signs of dawn to finally come.
---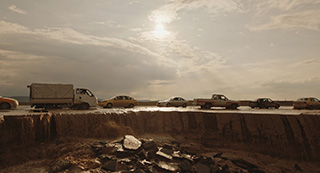 [Director's Statement] Notturno is a movie of the light, not of the dark. It speaks about the astonishing will of people to live. Death has no allure, it is nothing but a nightmare. In numerous places where history took its first steps since the time of the Great Flood through the invention of the number system, today flags are being raised in the name of tribe and conquest. Heart-rending contrast pervades the Middle East: holy sites and industrial zones, unsown fields and bucolic villages, bombed-out wastelands and desert, labyrinthian snarls of electric wire and swamps that move with furtive fishing boats... It is not the aim of Notturno to approach these contradictions analytically, but instead to let them speak, in addition to serving as a hymn of praise to humans who have fallen into the darkness of war. As with the Nocturnes of Chopin, the darkness evoked by the title here is merely a pretext as well, an opportunity for the lives of those depicted to resonate with the viewer.

Gianfranco Rosi
Born in Asmara, Eritrea. His 2010 film El Sicario, Room 164 in which he interviews a former hitman on the run from the Mexican cartels won the International Critics Award at the Venice International Film Festival. In 2013, Grande Raccordo Anulare, which told the unknown stories of those living in Rome around the titular ring road, won the Golden Lion Award at the same festival, the first documentary to do so. His 2016 film Fire at Sea, about the encounter between migrants crossing the Mediterranean and the residents of Lampedusa, was awarded the Golden Bear at the Berlin International Film Festival.