Inside the Red Brick Wall
---
HONG KONG / 2020 / Cantonese / Color / DCP / 88 min

Directors: Hong Kong Documentary Filmmakers
World Sales: Chloe Lui
Clashes between the protestors rallying against the Hong Kong extradition bill and Hong Kong authorities intensified in November 2019. Surrounded by heavily armed police, demonstrators were forced into an eleven-day siege on the campus of Hong Kong Polytech University. Shot from the inside by filmmakers who remain anonymous out of concern for their own safety—Inside the Red Brick Wall vividly depicts a voluntary civic movement beat into submission by violent and cunning authorities, and the growing anger of these students who have been deprived of any clear path of retreat. Although the young people's faces have been covered up by masks or digitally censored to protect their identities, their fears and anxieties are anything but obscured.
---
[Director's Statement] This film captures the experience of protestors during one of the critical milestones in the Anti-ELAB Movement, which began in June 2019 when the government attempted to pass an Extradition Law Amendment Bill (ELAB), allowing the extradition of suspects to mainland China for trial.
Hong Kong Documentary Filmmakers is a group of independent filmmakers who recorded events at the frontlines beginning in July 2019. When each of us learned of others filming at the scene, we decided to form a collective archive of footage. We were there to film the PolyU siege, which was a shock to everyone. Many journalists left the campus, but we quickly decided to stay, knowing we were witnessing an important part of Hong Kong history.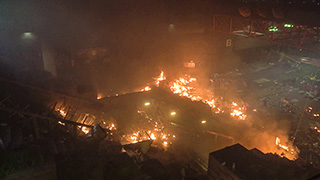 After we got out of the siege, our minds and souls still felt trapped in the campus. We decided to cope by organizing our footage, which was the start of this film.
Many of the people you see in the film now struggle with PTSD, were arrested and are going through judicial procedures, or have left to seek asylum abroad.
We want to take this chance to thank YIDFF for selecting this film. Under threat by the pro-China media and the National Security Law which takes effect from July 1, 2020, even independent cinemas can no longer show it in our homeland. It means a lot for us to still be able to share what we saw with audiences in Japan at such an important film festival.
We believe in the power of film and in our audience. We will continue to tell the unheard stories of Hong Kong, to the rest of Hong Kong, to the world, and to future generations.