Yamagata City
---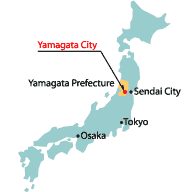 Yamagata City is a lush, green, picturesque castle town which has developed in the fan shaped basin of the Mamigasaki River with views of Mount Zao to the east and the Asahi Mountain Range to the west.
At present it has a population of over 250,000 people, covers an area of 382 square kilometers and is the hub of Yamagata Prefecture's economic and cultural activity.
Mount Zao's nationally renowned ski resort and juhyo—'snow monsters' (beautiful and unusually shaped ice covered trees) and the Tohoku Region's holy mountain, Yamadera, are both showcase tourist spots of Yamagata City and as such are well visited by numerous tourists each year.
Through the year the typical inland weather with it's extremes of hot and cold, gives the four seasons their own distinct beauty and the area it's rich harvest.
Each season has it's own associated event; in spring the Plant Market, in summer the Hanagasa (flower hat dance) Festival, in fall the famous Imonikai (potato and beef stew picnic) and in winter the Juhyo Festival which gives Yamagata much traditional appeal and charm.
Climate
Average Temperature


(degrees Celsius)

Average Rainfall

(mm)

January
-1.5
72.5
February
0.0
95.0
March
2.8
60.5
April
9.2
107.5
May
16.5
107.0
June
20.6
84.5
July
25.0
226.5
August
26.2
49.0
September
21.6
114.0
October
13.8
67.5
November
7.3
106.0
December
1.7
75.0