Film Letter to the Future
Co-organized by Yamagata University Institute for Visual Arts and Science
In Cooperation with Lussas International Documentary Film Festival, Documentaire sur grand écran
---
• October 8 (Sun) 10:00 [Venue] CS Yamagata Citizens' Hall (Small Hall)
To watch a movie is to encounter a life beyond one's own. It means to consider that life, to be in awe of it. The hope of movies is that the voices coming through the screen and the answers they engender will reach someone, some set of young ears, somewhere in some future. YIDFF has been holding youth-targeted viewing programs and workshops and supported the activities of high school students of the Docuyama Youth initiative. This year, the festival will screen short films by Dutch filmmaker Johan van der Keuken (1938–2001), including one about a child whose innocence lights up a dark and unfair world, followed by a workshop (Free admission for high school and university students. Pre-registration required).
---
Herman Slobbe / Blind Child 2

THE NETHERLANDS / 1966 / 29 min


Director: Johan van der Keuken


Van der Keuken met Herman Slobbe while shooting Blind Child (1964). Herman brims with energy as he struggles through the environment in which he has been placed by grasping at sounds, taking on various challenges. At one point he takes the microphone and becomes the film's reporter.
---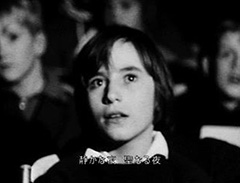 Beppie

THE NETHERLANDS / 1965 / 38 min


Director: Johan van der Keuken


Beppie is ten years old. This girl from a working-class family in Amsterdam is cheerful and full of wit as she recounts to the filmmaker adventures that lasted a number of months. Life, death, television, love, money . . . . The filmmaker follows her everyday life.
---
Workshop facilitator

Christophe Postic

(Co-artistic Director of Lussas International Documentary Film Festival)


Nishino Madoka

(Filmmaker)