UNESCO Creative City of Film, Yamagata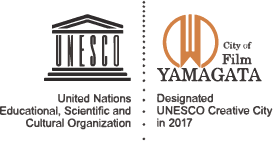 ---
---
On October 31, 2017, Yamagata City joined the UNESCO Creative City Network as a City of Film. Roughly four years prior to this during a special program at YIDFF 2013 titled "Yamagata and Film," leading Creative City researcher Sasaki Masayuki was invited for a lecture and symposium which resulted in lively discussions. That year, the city's intention to actively seek out the Creative City designation was declared at the festival's closing ceremony. Later, with the cooperation of both the public and private sectors, the Yamagata Creative City Promotion Council was launched, and it connected cinema and arts promotion to community-building activities that are ongoing.
---
Yamagata Maiko—Traditional Performing Arts in the Modern Day
(Yamagata maiko—uketsugareru dento geino)
---
JAPAN / 2019 / Japanese / Color / Blu-ray / 26 min

Director: Sato Koichi
Presented and produced by: Yamagata City, Yamagata Creative City Promotion Council
The Yamagata Creative City Promotion Project, "Yamagata Renaissance Project," seeks to renew interest in Yamagata's culture and charm through film production, while at the same time nurturing the next generation of filmmakers in Yamagata. In the short documentary, Yamagata Maiko—Traditional Performing Arts in the Modern Day, depictions of the daily lives and history of maiko (apprentice geisha) reveal the charm of Yamagata's traditional performing arts and ryotei (a kind of traditional Japanese restaurant) culture, helping to pass them and the feelings of the people on to the future.
• Post-screening talk: Director Sato Koichi