Tenryu-ku Okuryoke Osawa: Bessho Tea Factory
(Tenryu-ku Okuryoke Osawa Bessho seicha kojo)
---
JAPAN / 2014 / Japanese / Color / Blu-ray / 64 min

Director: Hori Teiichi
Associate Producer: Uchiyama Takeshi
Source: Athénée Français Cultural Center

Osawa Village, located at an altitude of 740 meters, on a steep mountain slope in the northernmost part of Hamamatsu City, Shizuoka Prefecture. The village offers gorgeous views of nearby Mt. Azabu, and the Shirokura River that flows down through a deep ravine below. This film provides a quiet look at the process of making tea that takes place here in the lush season of late May—from picking tea along Osawa's steep slopes, through its processing at a local factory.
---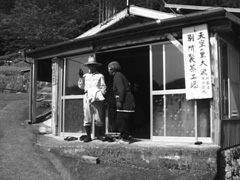 [Director's Statement] I became interested in capturing images of mountain life after meeting people living there and listening to their stories. Osawa Village was established by kijishi (woodworkers). Okura Pictures' first president Okura Mitsugi, born in Nagiso in the Shinshu region, also traces his lineage to the kijishi. Meanwhile, film director Kobayashi Satoru, one of my first mentors, is from Shinshu's Asama Onsen area, making my encounter with Osawa indeed serendipitous. (excerpt from his production notes)
Hori Teiichi
Worked on the production of The Brightness of the Day in 1994. Entered Okura Pictures as an assistant director, essentially earning experience as a subordinate. Made three pink films including his directorial debut Chuburarin in 2003, and subsequently began work on mainstream films with Moso shojo otaku kei in 2007. The Tenryu-ku series marks his foray into documentary. His latest work, Natsu no musumetachi: himegoto, was shown to nationwide acclaim, after opening at Pole Pole Higashi Nakano. He passed away on July 18, 2017 in the midst of a retrospective of his works at the same theater.