[THE PHILIPPINES]
Of Cats, Dogs, Farm Animals and Sashimi
---
THE PHILIPPINES / 2015 / Visayan, Subanen / Color / Blu-ray / 78 min

Director, Script, Photography, Producer: Perry Dizon
Editing: Arbi Barbarona, Perry Dizon
Sound: Arbi Barbarona
Executive Producer: Liryc Dela Cruz
Production Company, Source: Luna Backyard Project

Dondon has grown up transient, moving from one rubber plantation to the next with his mother, a seasonal worker on the island of Mindanao in Zamboanga. The film captures a portrait of his difficult life in which he changes, in the briefest of instants, from a boy to a man. The camera shows Dondon as he makes kinilaw with his tight-fisted boss and worries about his family and his future, as well as life in this fishing village covered by blue skies as far as the eye can see —with its cats, its children, a scary old lady that controls the fish sales, and the villagers as they prepare for a fiesta.
---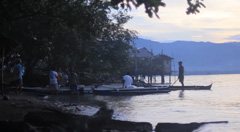 [Director's Statement] The Philippines is a country whose diverse cultural practices are highly Asian and yet greatly influenced by western civilization from then and now. Some areas in the island still practice the unsaid "feudal" culture among ethnicity and tribes. And the island of Mindanao is not spared from this practice more so that its people gave the colonizers a hard time in infiltrating the island during the Spanish colonization in the early 1800s, which gives the continuation of the Master and Subject relationship cultural reality. This is where our story unfolds—about these young farm workers who were "passed-on" by their elders to continue a small enterprise by a family who practically owns most of the land in this little district in the cove of Sibugay Bay in the province of Zamboanga, Mindanao Island. Dreams, aspirations and the will to become is the central tenet of our story told in a free spirited manner with the tongue in the cheek and a bit of Socratic tinge. In this chaotic world, you need not to complicate things anymore and just tell your simple story. And if along the way still nobody wants to listen, then talk to your cat.

Perry Dizon
Perry Dizon is a filmmaker from Mindanao, Philippines. He studied Anthropology at Mindanao State University in Marawi City. He worked as Production Designer, Actor and Assistant Director in local and foreign films that include Lav Diaz's Melancholia (2008), Norte, the End of History (2013), Mula sa kung ano ang noon (2014), Arnel Mardoquio's Sheika (2010), Ang paglalakbay ng mga bituin sa gabing madilim (2012) and Iisa (2015). Currently working on a film by Christopher Gozum, Ashes and Ghosts of Tayug 1931 as the lead character, Pedro Calosa. Of Cats, Dogs, Farm Animals and Sashimi is his directorial debut.

Interview