YIDFF 2013 Closing Film


A Boatload of Wild Irishmen
---
IRELAND, UK / 2011 / English, Irish / Color, B&W / Blu-ray / 84 min

Director: Mac Dara Ó'Curraidhín
Script: Brian Winston
Editing: Chris Hainstock, Mikey Flaherty
Photography: Alan Wilson, Andy Lee, Chuck Fishbein, Ronán Fox, Warwick Wrigley
Music: Steve McGrath
Sound Engineer: Ciarán Mulligan
Producer: Mac Dara Ó'Curraidhín
Associate Producers: Brian Winston, Brian Deptford
Production Companies: A Léirithe le Mac Dara Ó'Curraidhín Production in association with Bright Spark Studios and Minerva Productions (University of Lincoln)
World Sales: Wavelength Pictures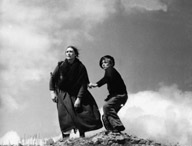 Robert Flaherty (1884–1951) was credited as the father of modern documentary after making Nanook of the North in 1922. He remains a big name in the history of cinema. His films Moana (1926), Man of Aran (1934), and Louisiana Story (1948) are widely regarded as classics. Flaherty was the first to show that films of the everyday lives of "real" people could be molded into dramatic, big screen narratives. But as a consequence, he was also the father of manipulation, through which stereotypes of exotic peoples became a part of cinema. The title refers to the climax of Man of Aran, where he staged a sequence with a small boat of local men struggling to land in the midst of a stormy Atlantic sea. It became a brilliant scene, but the risks the protagonists were subjected to suggest the moral dilemmas inherent to documentary filmmaking.

Mac Dara Ó'Curraidhín
Mac Dara Ó'Curraidhín lives in An Spideal, in the West of Ireland. He is regularly commissioned by Irish language broadcaster TG-4 to make arts documentaries. He has produced and directed documentaries since 1996, often about prominent Irishmen and Irish culture, history, and society. His filmography includes Muintir na gCurach (1996), an Oireachtas award-winning documentary on the tradition of curach-racing, Ré na Ceilpe / The Kelp Age (1999), on the history of Kelp-making in Ireland, and Rí an Fhocail (2006), a one-hour Celtic Film Festival and IFTA 2007 award-winning portrait of writer Máirtín Ó Cadhain.