International Competition
---
Jurors
Juror


Pedro Costa
---
[Juror's Statement]
If one could line up an absolute dream team of film festivals, Yamagata would be right up there along with Pesaro, Hyères, Figueira da Foz, or Taormina. Sadly, all these marvelous, legendary places where films were respected and loved no longer exist . . . But Yamagata still stands proudly—Mr. Yano is there!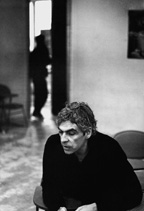 Born in Lisbon in 1959, Costa majored in history and literature at the University of Lisbon. He studied at the National Film School and worked as an assistant director with Joan Botelho and Jorge Silva Melo. In 1984, he directed the short film Cartas a Júlia and made his first full-length film, O Sangue, in 1989. Since then, Costa has received international attention as a leading Portuguese director for Casa de Lava (1994) and Ossos (1997). In Vanda's Room (2000) won the Mayor's Prize at YIDFF 2001. After Danièle Huillet, Jean-Marie Straub cineastas: Où gît votre sourire enfoui? (2001), he made Colossal Youth, which was presented at the Cannes Film Festival in 2006 and has been screened at many other international festivals.
---
Colossal Youth
Juventude em Marcha
---
PORTUGAL, FRANCE, SWITZERLAND / 2006 / Portuguese / Color / 35mm / 155 min

Director: Pedro Costa
Photography: Pedro Costa, Leonardo Simões
Editing: Pedro Marques
Sound: Olivier Blanc
Sound Editing: Nuno Carvalho
Mixing: Jean-Pierre Laforce
Cast: Ventura, Vanda Duarte, Beatriz Duarte, Gustavo Sumpta, Cila Cardoso, Isabel Cardoso, Alberto Barros "Lento," Antonio Semedo "Nhurro," Paulo Nunes
Production Director: Joaquim Carvalho
Producer: Francisco Villa-Lobos
Associate Producers: Philippe Avril, Andres Pfaeffli, Elda Guidinetti
Production Companies: Contracosta Producões, LDA, Les films de l'etranger, Unlimited, Ventura Film SA, ARTE France, RTP, RTSI

Ventura, a man from Cape Verde living in the outskirts of Lisbon, is suddenly deserted by his wife Clotilde and goes back and forth in a daze between the Fontainhas slums where he resided for thirty-four years and his new abode, where he moved after his slum neighborhood was demolished. Director Pedro Costa, who earlier portrayed the people of the Fontainhas district with Ossos and In Vanda's Room, has Vanda appear once again as he depicts the wanderings of these spirits.