New Asian Currents
---
---
Jurors
[TURKEY]
Keep the Change
Üstü Kalsin
---
TURKEY / 2003 / Turkish / Color, B&W / Video / 27 min

Directors, Producers: Ceren Bayar, Dilek İyigün, Elif Karadenizli, Özge Kendirci, Savaş İlhan
Photography: Savaş İlhan
Editing: Dilek İyigün
Source: Ankara University Faculty of Communication

On December 19, 2000, political prisoners throughout Turkey protested their being moved into so-called "F type" isolation cells. For two months they continued a "Death Fast," when suddenly, under the pretext of a "rescue operation," armed security forces cracked down on the prisons resulting in a great number of people being killed and wounded. We see news broadcasts reporting on the smoke and commotion, prisons advertising the "comfort of the private rooms," and the faces of people in the street who "do not remember" the incident. By drawing attention to the facial expressions, the voices, the memories and the present situation of these former political prisoners, who suffer from memory loss as a result of the incident and now lead a communal life, the film attempts to inscribe the incident into a Turkish society actively forgetting it; and to stand up to the forces of Oblivion.
---
[Director's Statement] What is a memory for?
I'm sure all of you have experienced déja vu at least once in your life, which made you say, "I experienced this very same moment before." Maybe a door opening slowly, or a conversation with a friend mesmerized you for a while. "I lived this before, but when and where?" Isn't it an odd feeling? You think you know it; maybe you are even sure you do, but you can't explain how.
And how many of you said, "Did I live this before?" Maybe I should ask the question this way: "Did any of you ever ask, 'Did I live this before?'" We normally remember names, friends, places, events, etc. But what is the function of the memory? To remember the good days, friends, birthday parties or loves?
Have you ever thought that your memory is a guide that leads you through the future? Your earlier days, both good and bad, serve as a lesson for things to come. If you learn some lessons from life, you really can make a fresh attempt to survive. Because you have learned that fire burns, stone hurts, and the sun always shines after the rain.
The heroes of this documentary must live a whole life again, but they no longer have the chance to take lessons from the day before because they cannot remember the long period starting with the hunger strikes and ending with the government operation. And the most suffering part is an entire society that cannot remember these things although they were eyewitnesses of everything.
Written by Elif Karadenizli on behalf of the directors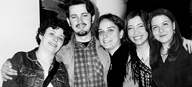 (From the left)
Elif Karadenizli
Born 1981 in Trabzon, Elif Karadenizli graduated from İLEF Ankara University in 2003. While working as a reporter for a daily newspaper, she was the producer of SOAP, and was a director, producer and narrator of That's All.
---
Savaş İlhan
Born 1981 in Balikesir, Savaş İlhan graduated from İLEF Ankara University in 2003 and works as a cameraman.
---
Ceren Bayar
Born 1980 in İstanbul, Ceren Bayar graduated from İLEF Ankara University in 2003. While working as a photography correspondent, she directed the short movie SOAP, and a short documentary about women, That's All.
---
Özge Kendirci
Born 1981 in Konya, Özge Kendirci graduated from İLEF Ankara University in 2003. She works in the advertising business, and was assistant director for SOAP.
---
Dilek İyigün
Born 1981 in Ankara, Dilek İyigün graduated from İLEF Ankara University in 2003. She is working as an assistant director in the advertising and documentary business.