Rough Cut Screenings and Discussion
Online
---
October 12 (Tue) 10:30–12:30
Tegrol: Tracing a Song to its Keepers in a Sacred Mountain
---
Director: Bagane Fiola (The Philippines)
Four years ago, the Philippine singer and ethnomusicologist Grace Nono was taught the sacred song Tegrol by Blaan singer Elia Capeon, who learned the song from her mother Legla, who in turn learned it from the revered Blaan woman spiritual leader, the late Bo Makayo. Two years since, Elia's community in Mount Atmurok welcomed Grace and her team led by film director Bagane Fiola so they can pay their respects to the sacred.
---
October 12 (Tue) 14:00–16:00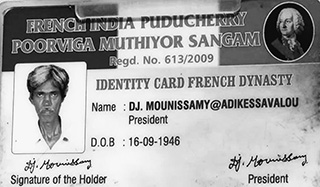 To Die A Frenchman
---
Director: Pankaj Rishi Kumar (India)
Living in Pondicherry (India), Monsieur Mounissamy, 70, wears his French identity on his sleeve. Mounissamy has a deep understanding of French politics, history and culture, and firmly believes that only if people knew their history, they could fight for their rights. He has made it his life's goal to fight for the restoration of his citizenship from France. He also aspires for a plot of land from India. His life and untimely death compel serious reflection on postcolonial histories, complex identities, and the struggles of an individual against systemic injustice.