Rough Cut Screenings and Discussion
Online
---
October 11 (Mon) 10:30–12:30
Fukushima Keisou Nikki
(Fukushima keisou nikki)
---
Director: Suzuki Hikaru (Japan)
A video diary of places near the Fukushima Daiichi Nuclear Power Station, including Odaka, Naraha, Futaba, and Iwaki. Filming not only the climate, terrain and air of the city, the director also mixes in details about his own personal situation.
---
October 11 (Mon) 14:00–16:00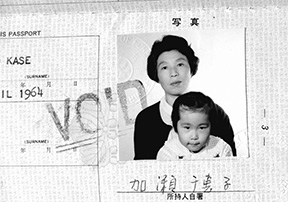 Love Letter to "Mamie"
(Mamie e no love letter)
---
Director: Osamura Hikari (Japan, France)

In 1967, Kase Chieko relocated to Paris with her husband, a karate instructor, and their two young daughters, spending over half a century on the foreign soil of France. Since meeting her in 2005, the director has called her Mamie (French for "Granny"). In 2018, she suddenly passed away, and the director sought out the traces of Mamie's life in Paris.