[CHINA]
Luo Luo's Fear
---
CHINA / 2020 / Chinese (Sichuan Dialect) / Color / Digital File / 85 min

Director, Photography, Editing, Sound: Luo Luo
Appearance: Dou Sihai
Editing Support: Hao Yongbo
Producer: Zhang Mengqi
Production Company: Caochangdi Workstation
Source: Luo Luo
It is the depths of the COVID-19 pandemic. Luo Luo watches the news in fits of anxiety. She lives with her 90-year-old father and urges he disinfect himself routinely while incessantly reminding him to stay at home. She listens to him recount from his own writings, stories of her mother, who passed away in 1958, and their lives before and after the Chinese Communist Revolution and Anti-Rightist Campaign. She finds some solace in online meetings calls with fellow members of the Folk Memory Project, of which this film is part, including Wu Wenguang and Zhang Mengqi. She spreads out a map to seek them, her friends, and acquaintances. In the end, she removes her mask and breaks into song.
---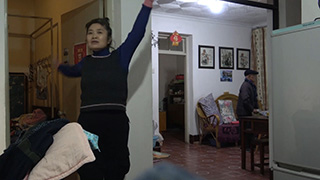 [Director's Statement] In 2020, during the most severe stage of the pandemic in China, my anxiety over the virus grew into panic, fear, and horror. I felt as if the intangible and invisible virus existed everywhere, in the air and in the woods. It was as if everyone was the virus.
I was very lucky to join Caochangdi Workstation, where I have participated in twenty-seven rounds of online workshops on analyzing and editing video footage. With the help and encouragement of teachers and friends there, I began to experiment with sequencing some of my video footage, which turned out to be my debut film Luo Luo's Fear. This is something I have never imagined I could do, to create my own film!
Luo Luo's Fear is not about my fears, but about me spelling out my fears, about my inner salvation, and about setting myself free. I want what is inside of me to be heard and be seen.

Luo Luo
Luo Luo (full name: Luo, Ziyue), was born in 1962 in Miyi County, Sichuan Province, where she has spent her entire life. Like most women of her age group, Luo Luo followed the course of getting married, giving birth, working, rearing children, taking care of elderly parents, and retiring from the workforce. In 2019, Luo Luo learned about Caochangdi Workstation and joined its Folk Memory Project. She began learning to film and edit footage at the beginning of 2020, and from there created her debut film.