YIDFF 2003 New Asian Currents
Becoming an Adult = The Work of Reexamining Hardship
---
Q: Did you have any resistance to turning your private life into a video piece?
GK: Indeed at first I did have resistance about making my own project by myself and showing my private life. But, at first I thought it was about exposing myself, and in the process of moving forward with the filming I realized that I was also showing society's problems, that anorexia and other diseases were not only my problems, but the problems of other people too. At that point, my resistance lessened.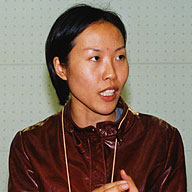 Q: The use of a lot of natural and artificial light was impressive.
GK: That is simply because light is something I like, and also I used it to express my own feelings. Beyond that, when I was in America I didn't have any friends and led a very solitary, isolated life, and I was yearning for the warmth of people. I wanted to feel warmth through being lit. The same thing can be said about the camera. Rolling the camera in my daily life, I would return to my room, plug in the cord, and when the monitor lit up it felt completely like the camera was alive, like a friend talking to me.
Q: How did your feelings about your mother change?
GK: In the beginning I felt like my mother didn't take care of me, didn't love me, that she was busy with her own life and that I was being neglected. But looking back on it now, I've come to feel that through my birth, I stole my mother's dreams, and my mother could no longer do the things she wanted to do. I feel like now I've become the same age that my mother was then, and as a woman I can really understand her feelings, and we can understand each other.
Q: At the end it is dedicated to your grandmother, but what kind of feelings were involved?
GK: This film was also for my grandmother. Meaning that my grandmother got a divorce and was forsaken by her family, and her life was solitary and lonely. So I felt very sympathetic toward my grandmother, and so I wanted to dedicate this film to her.
Q: What kind of existence does this piece have for you now?
GK: Making this film was the difficult task of regenerating and reexamining my own illness and hardship. Also, I spent a long time working on the piece, starting from1996 until it was completed in 2002. Moreover, in 1999 when I was still not completely recovered from my own anorexia, I was able to both finish the film and recover from my illness. So, I think I can share the suffering of people watching this film who have the same illness and troubles. Also, in the process of making the film I was able to understand my mother's feelings. On one hand, I was also able to make a new work called Invisible Light based on this film. And so making this film was the really difficult work of reexamining my own hardships, but it enabled me to grow up a lot.
(Compiled by Yabe Atsuko)
Interviewers: Yabe Atsuko, Hayashishita Sayo / Interpreter: Saito Shinko
Photography: Oki Yuko / Video: Kondo Yoko / 2003-10-13