2013-06-17
|

YIDFF 2013 Preliminary Event in Yamagata:


Ogawa Shinsuke Retrospective—"Harvesting Yamagata"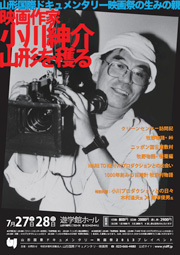 Why has a documentary film festival been held in Yamagata?—About 40 years ago, legendary documentarist Ogawa Shinsuke and his production moved to Magino village, Kaminoyama in Yamagata. They started a farming life and created late masterpieces such as A Japanese Village—Furuyashikimura and Magino Village—A Tale. Ogawa's presence in Magino also inspired Yamagata citizens to hold an international documentary film festival by themselves in this rural city. His love for ordinary people struggling in daily lives has still been the core principle of YIDFF, while Ogawa pro works have so far influenced many ambitious documentarists in and outside Japan.
As a preliminary event for upcoming YIDFF 2013, we'll hold a special screening event featuring Ogawa works, especially focusing on their Yamagata films from 1970s.
YIDFF 2013 Preliminary Event in Yamagata:


Ogawa Shinsuke Retrospective—"Harvesting Yamagata"
• July 27 (Sat)
13:00

Interview at Clean Center


Dir: Ogawa Shinsuke / 1975 / 16mm / 57 min


Magino Story—Pass


Dir: Ogawa Shinsuke / 1977 / 16mm / 43 min

15:10

A Japanese Village—Furuyashikimura


Dir: Ogawa Shinsuke / 1982 / 16mm / 210 min

Magino Story—Raising Silkworms


Dir: Ogawa Shinsuke / 1977 / 16mm / 112 min




13:00

Hare To Ke


Dir: Regina Ulwer / WEST GERMANY / 1988 / 16mm / 88 min

14:30

Special Talks:

"Days We Spent with Ogawa Productions"
with Kimura Michio and former Ogawa Pro member Iizuka Toshio


(Admission Free)



Magino Village—A Tale


Dir: Ogawa Shinsuke / 1986 / 16mm / 222 min
Source: The Film School of Tokyo, Image Forum & Daguerreo Press
[Venue]

Yugakukan Hall

(1-2-36 Midori-cho, Yamagata City)

[Admission]

Advanced Ticket: 800 yen per one film, 2,000 yen for 3 films, 2,900 yen for free pass
Day ticket: 1,000 yen per one film, 2,800 yen for 3 films
Ticket Sales: Hachimonji-ya Pool, Juji-ya Department Store, Yamagata Documentary Film Library, YIDFF Yamagata Office

[Presented by]

YIDFF (NPO)

[Contact]

phone: 023-666-4480

(YIDFF Yamagata office)