| | | |
| --- | --- | --- |
| 2013-04-19 | | | Giving Pause to a Nostalgic Yamagata: City PR Films Screening Tour |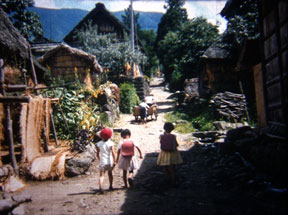 From the 1950s to the 1970s, Yamagata City made PR films to introduce regional topics. These films, which had been sleeping in the basement of Yamagata City Hall, would be a waste if covered in dust. We had the prints restored and cleaned, so that they could be screened. These films not only document famous tourist destinations, but are also clear recordings of past citizen's vivid expressions, showing Yamagata completely different from that of today.
We see the Yamagata Festival, the predecessor of today's Hanagasa Festival, and Nanukamachi high streets with lively costume parades and float. We witness the inside of a public school when the city had just started school lunches, brimming with excitement over powdered skim milk and bread rolls. Open air cooking classes organized by The Woman's Association are also resurrected with vividly colored images and light narration.
The town we live in now is revived on screen as it was 50 years ago, allowing us to reflect on times past, and share them with the younger generations that do not know them. Hoping to create spaces in which such experiences can occur, we curate and screen these films at local community centers. May flowers bloom from old stories, as we give pause to a Yamagata a half-century past!
Giving Pause to a Nostalgic Yamagata:

City PR Films Screening Tour
Growing Yamagata: Nanbu Edition

and others (3 films, about 60 min in total)

Yamagata Festival: Year 1956

and others (3 films, about 60 min in total)

Yamagata Festival: Year 1956, Growing Yamagata: Nanbu Edition

(2 films, about 40 min in total)

Yamagata Festival: Year 1956, Growing Yamagata: Hokubu Edition

(2 films, about 40 min in total)

Growing Yamagata: Nanbu Edition, Yamagata Festival: Year 1955, Koho News No. 1

(3 films, about 60 min in total)

Watashitach no Shisetsu, Growing Yamagata: Hokubu Edition, Yamagata Festival: Year 1956

(3 films, about 60 min in total)

Growing Yamagata: Hokubu Edition, Konpon Chudo: Record of Dismantling and Repair Work
Growing Yamagata: Hokubu Edition, Koho News No. 3
Growing Yamagata: Nanbu Edition, Koho News No. 1, Koho News No. 4

(3 films, about 60 min in total)

Growing Yamagata: Hokubu Edition, Yamagata Festival
Growing Yamagata: Hokubu Edition, Koho News No. 6, Yamagata Festival: Year 1956
[Admission] Free
[Contact] phone: 023-666-4480 (YIDFF Yamagata office)