YIDFF 2003 The 18th National Cultural Festival "YAMAGATA 2003" Documentary Festival
Filming a Lover through Self-documentary
---
Q: What led you to make this piece?
MT: I got an offer from Fujioka at Planet, an Osaka-based theater. The project was to make a thirty-minute piece on a subject of the director's choice. Murakami Kenji (How I Survive in Kawaguchi City), myself and others were only given the concept of self-documentary.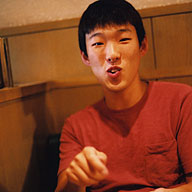 Q: Why did you pick the topic of Every Japanese Woman Makes Her Own Curry?
MT: I love adult videos, but the format of interviewing women and having sex is always the same. There's also a lot of boring stuff, but even though women are being filmed, the things that the filmmaker finds make an interesting piece. So I wanted to make a piece having unrelated women do the same activity, and discovering each person's individuality from the differences. Watching women, the moment I think is appealing is when they are cooking. And curry rice is the easiest dish, and apparently the dish that girls first learn how to make, and more than anything it's a dish I love to eat.
Q: How did you select the women who appear?
MT: They are subjects who aroused my interest, who have no relation with each other. The first person is an acquaintance I'm meeting for the first time in a while, the second is a female friend, and the last person is my girlfriend. The last person is the person I'm closest to, and I used this structure anticipating that conversation would lessen. The camera becomes a pretext. When you'd like to change a relationship or get to know someone better, the camera becomes a tool for communication.
Q: I think in this piece "curry rice" is the object for "lover," but what about having your own girlfriend appear in the piece?
MT: This time is the first time to film my girlfriend. She's closest to me, has been with me the longest, and it bothered me I didn't have any works about her. Because in Annyong-Kimchi, I realized it was nice that I could leave behind my grandmother and father's words in the piece.
Q: When it comes to filming the intimate subject of a lover, there are also works like Hara Kazuo's Extreme Private Eros and Hirano Katsuyuki's Yumika.
MT: I wanted to do a type of work different from those pieces. I feel like whomever I film, I want to show them so they are interesting. For self-documentary, whether or not the piece can be made interesting is a problem for the person shooting. This time the women asked "is there something interesting about me?" But I wanted to shoot nobodies and make them look interesting. I didn't want to pursue anyone. I love Hara's work, and I respect him, but my temperament as a filmmaker is different. Hara's work could be shot precisely because it was done in 16mm, and I think my piece had to be shot in video.
Q: What kind of changes have you had since participating in YIDFF '99?
MT: This isn't flattery, but I think that I continue making films now because there was YIDFF. Having my work at YIDFF enabled me to participate in other film festivals, and to have many different encounters. Also about "screening," a feeling of responsibility as a filmmaker emerged through having my work shown at the Muse theater and coming into direct contact with the audience during the question and answer session. Japan Academy of Moving Images taught me the fundamentals and how to make films, and YIDFF taught me how to actually make that a reality. I feel like it was a film school for me that taught me how to show my work to other people.
(Compiled by Wagatsuma Chizuko)
Interviewer: Wagatsuma Chizuko
Photography: Kato Takanobu / Video: Kato Takanobu / 2003-09-28 / in Tokyo