YIDFF 2003 New Asian Currents
Radio Exercise Is Like Filmmaking
---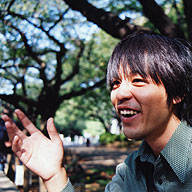 Q: What location did you use for the shoot?
ND: Ueno Park, in Tokyo's Taito Ward.
Q: The piece gives you a sense of the different seasons. How long did you take for the shooting?
ND: A nine-month period, from October 2002 to July 2003. Strictly speaking, I didn't shoot during the summertime.
Q: Are the participants exercising together as a single group?
ND: There were around three radios, and in general, it looked like everyone was divided into two groups. A lot of people are scattered around the water fountain, so I couldn't tell exactly how many groups there were.
Q: It looks like the audio from the radio broadcasts and the picture match up perfectly, but was that difficult to do during the editing?
ND: Do they match? There are places here and there where it doesn't match up. In fact, the people exercising weren't in synch with the audio from the broadcast in the first place. Their movements are all different. And as the filming progressed, I noticed that the speed and tempo of the piano playing for the radio exercises are different every day. You'd think it was a live performance. For example, during the editing I realized that Tuesdays and Thursdays had the same tempo even though they are different days, which seemed quite strange. Someone please explain to me the inner workings of the radio exercise broadcast.
Q: Why did you decide to make this piece?
ND: I live about fifteen minutes from Ueno Park, and I saw radio exercising a lot, like when I'd been out drinking all night, and it interested me. I first saw it about seven years ago. Until now I've mostly made really short pieces and works from the stance of "searching for myself." I did photography and installations, and from around 1997 I started making films. When I started shooting I felt like the numerous works around me had entirely too little reality for me. They might be events that actually happen somewhere, but for me they just didn't have any sense of being real. My idea was to express myself and the generation that I'm part of, with myself as a sample, saying "there's this person here, and here's what he's thinking about." I'd run out of things to express within myself, so I decided to show the radio exercising that happened to be going on nearby.
Q: How did you come to regard radio exercising?
ND: The thing about radio exercise is that after you've finished, you feel like you are more healthy, that your body has been stretched out. Although you might not know specifically how you want to get in shape, radio exercise has you do a variety of movements. So even if you can't pinpoint where the trouble is, before you know it, you somehow find yourself in better shape. It's a vague way of putting it, but I did the shooting with the desire to discover and learn something I didn't know, and I think radio exercising is like filmmaking in the sense that you feel like you've made a discovery.
(Compiled by Kotani Mayo)
Interviewer: Kotani Mayo
Photography: Kotani Mayo / 2003-09-27 / in Tokyo