Sharing Air, Living Time

(Collaboration project with TFAI Taiwan)
October 2021 to February 2022
---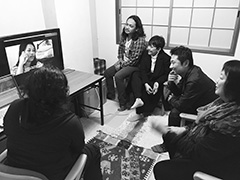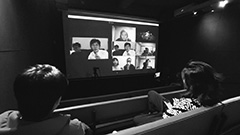 A joint-project with Taiwan Film and Audiovisual Institute (TFAI) which kicks off during YIDFF 2021 (Oct 2021) and closes with the filmmaker residency program Yamagata Documentary Dojo 4 (Feb 2022). It will feature monthly sessions of documentaries and discussions online. Together with programming partners from Taiwan International Documentary Festival (TIDF), the project will investigate the meaning of mobility and sharing space in society, as these strange times push us to socially distance and isolate from each other.
With the Collaboration of: Ministry of Culture, Republic of China (Taiwan);
Taiwan Culture Center, Taipei Economic and Cultural Representative Office in Japan;
Taiwan Film and Audiovisual Institute (TFAI)
---
To Share Space in Person
The COVID-19 pandemic has shaken politics and economies globally, and forced huge changes upon people's lives. One of the effects that will surely leave a lasting imprint on the core of contemporary social fabric is a wariness of personal and physical contact ingrained through the habit of social distancing—fear of sharing physical space with others. People were dictated not to cross state borders, international travel was restricted with borders tightly regulated with stringent controls on quarantine and testing, especially in East Asian island countries. Large gatherings of people were criticized.
In the arts and culture scene, film festivals have tried to continue delivering lovingly-crafted films to audiences through streaming and using online conference tools to simulate meetings. But most cinema people will agree that with all the benefits, watching online screenings in our isolated rooms around the world lacks something fundamental in the spirit of what international film festivals are and can be—a place for the social gathering of minds, hearts, and ideas concerning creativity.
This collaboration project between two leading documentary film festivals in Asia, TIDF (Taiwan) and YIDFF (Japan) begins from the dilemma of a festival forced to go online (YIDFF 2021), and goes on, through sessions of viewing films and discussions together, to investigate what it means for people to share space, to see and listen to each other in person, as people.
Physical meeting is about being vulnerable to unpredictable coincidence and violence, but also about the joy of discovering the unknown and the bubbling of empathy through shared time. Hindering mobility and isolating people from each other seems to endanger an ecosphere of tolerance, by unknowingly fueling prejudice and blinding our perception from the richness of diversity.
History and experience tell us that exchange among people inspires thought and emotions, generating innovation in culture and technology. Through Taiwan and Japanese documentaries, this project will allow us to delve into the theme through various viewpoints.
---
At YIDFF 2021
Online talk event. Oct. 11th (Mon) 11:00-12:30
Two Taiwanese films in New Asian Currents have chosen very different film styles to depict the plight of Vietnamese migrant workers made invisible in Taiwanese society and how voices are raised. From the Perspectives Japan program, Transform! is about a wheelchair user (the director) who discovers self-expression and a new form of communication through his body in the course of filmmaking. An online discussion with the filmmakers through interpreters will explore how important it is to be allowed to feel present as a participant of wider society and how simple recognition can be denied.



Panelists:

So Yushen (director, Dorm)
Tseng Wen-chen (director, The Lucky Woman)
Ishida Tomoya (director, Transform!)

Moderator:

Wood Lin

(Program Director, Taiwan International Documentary Festival)
Other Events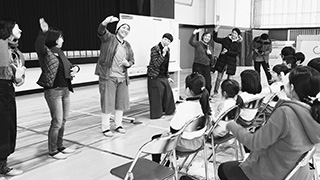 In November, December, and January
Taiwan and Japanese documentaries will be made available online early each month (registration required, Chinese/Japanese subtitled). The program will be accompanied by online talk events with Taiwan and Japanese discussants.
Yamagata Documentary Dojo 4
Fourth edition of filmmaker residency program for Asian documentary makers set in Yamagata. Taiwan and Japanese filmmakers will share time and space together, using the retreat as an opportunity to review their work from new perspectives.
For more information

TIDF Website: "Sharing Air, Living Time" (in Chinese)