My Sweet and Bitter Village
(Benidodan no saku mura wa)
---
Director: Okazaki Mayumi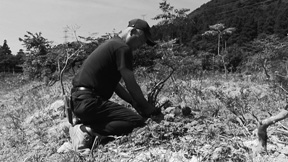 Mihama Town in Fukui Prefecture has three nuclear reactors. There is one former town councilor who had been ostracized as the only outspoken resident of the town to oppose nuclear power. After the accident at the Fukushima Daiichi nuclear power plant, he fights to protect the people of his village.
---
Apo's four seasons
(Apo no shiki)
---
Director: Yoneda Mai

A record of the daily life of Apo (an "elderly woman"), who lives in Lingao County, Hainan Province, China. Apo opens her mouth to talk about the old days telling of the time when the Japanese army was stationed there.