International Competition
---
Jurors
Juror


Garin Nugroho
---

[Juror's Statement]
Yamagata is a way of deciphering a map of history, a map of documentation, and human life.
Thus, people who want to look at life must come to YIDFF and see with their own eyes.
Born in 1961 in Yogyakarta, Indonesia. He studied film at the Jakarta Institute for the Arts until 1985. Before making his first feature film Love on a Slice of Bread in 1991, he had directed two short films and fifteen documentaries. Apart from making films he also works as a journalist and as a university professor. His filmography includes: Letter to an Angel (1993), And the Moon Dances (1996), Leaf on a Pillow (1999), Birdman Tale (2002), Serambi (2005), Opera Jawa (2006), and The Blue Generation (2008), all of which address Indonesia's diverse cultures and social issues.

Interview

(DocBox #14)
---
A Poet: Unconcealed Poetry
Puisi Tak Terkuburkan
---
INDONESIA / 1999 / Acehnese / Color, B&W / 35mm / 83 min

Director, Executive Producer: Garin Nugroho
Script: Nana Mulyana
Photography: Winalda E. Melalatoa
Editing: Rahmat YP Sound: Yuni Kusnadi
Music: Tony Prabowo
Art Director: Tonny Trimarsanto
Cast: Ibrahim Kadir, Berliana Fibrianti, Jose Rizal Manua, Ellagayo, Amak Baldjun, Atiek Cancer
Production Company, Source: SET Film Workshop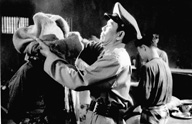 Didong is a traditional form of community entertainment in Aceh in which groups compete in singing poems and songs. Casting poet and didong performer Ibrahim Kadir as its main protagonist, this film was the first Indonesian film to address the horrifying 1965 Red Purge, during which an estimated two million citizens were massacred. Weaving together Kadir's eyewitness accounts of his experiences and re-enacted scenes from prison, the film depicts how innocent people, waiting in terror for their execution, cope with the passing of this irrational time and maintain human dignity through prayer, poetry, song, and dance, and by telling each other stories of love.