The New Generation of Zainichi Filmmakers
---
---
This is a collection of films made by zainichi filmmakers in recent years. Kanamori Taro a.k.a. Kim Seung-yong travels to Tibet while Kim Sung-woong documents the lives of first-generation zainichi who gather in back-alley apartments. Matsue Tetsuaki followed a zainichi adult video actor and actresses. What can we learn from the North Korean travelogue of director Ren Shujian, a Chinese resident of Japan?
---
Tibet Tibet
---
JAPAN / 2005 / Japanese / Color / Video / 105 min / English subtitled version

Director, Photography: Kanamori Taro a.k.a. Kim Seung-yong
Editing, Narrative Structure: Kaji Makoto
Music: Okubo Tomoyuki
Production Company, Source: Ragos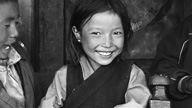 Tibet Tibet grew out of a young third-generation zainichi Korean's personal discovery of the existence of Tibetan exiles while traveling in India. In 1997, having set out with video camera in hand on an unplanned world trip, he encounters large numbers of Tibetans in exile in northern India. The difficulties of these people driven from their country turn his thoughts to the hardships that his own grandparents experienced and, by extension, to notions of ethnicity and nation state. The following year, he visits Tibet (now officially the Tibetan Autonomous Region of the People's Republic of China) and witnesses the ethnic crisis for himself.
---
Hana Hanme
("Hana hanme")
---
JAPAN / 2004 / Japanese / Color / 16mm / 100 min

Director: Kim Sung-woong
Photography: Ishikura Ryuji
Sound: Nagamine Yasuhiro, Sawahata Akira
Music: Yokouchi Heigo
Sound Design: Watanabe Takehiko
Producer: Yoneyama Kiyoshi
Planning, Production: Hana Hanme Production and Screening Committee, Hippo Communications
Source: Hana Hanme Screening Committee

After the death of his mother, Kim Sung-woong decided to portray the everyday life and history of first-generation zainichi Koreans. He spent four years documenting the lives of old women living in small apartments in the neighborhood of Sakuramoto in Kawasaki City. In his fliers, Kim writes, "What I could do was to make a film with my friends, as if we were making a small tomb." Unlike many works on zainichi Koreans that depict the history of their struggles and discrimination, this work is refreshing because it captures the everyday lives of first-generation zainichi Koreans as they are now.
---
Identity
---
JAPAN / 2004 / Japanese / Color / Video / 83 min / English subtitled version

Director, Narrative Structure: Matsue Tetsuaki
Photography: Matsue Tetsuaki, Murakami Kenji
Photography (8mm): Murakami Kenji
Music: Fujino Chika, Kawano Ken
Producer: Company Matsuo
Production Company, Source: HMJM

This is a two-part documentary featuring zainichi Chinese, South and North Koreans. Third-generation zainichi pornography actress Aikawa Hiromi, who holds South Korean citizenship, feels her hometown is Onomichi in Hiroshima Prefecture where she spent the early part of her childhood, and embarks on a trip in search of her roots. Meanwhile, Anna, an overseas student from China, goes on a date in Yokohama with Hanaoka Jitta, a second-generation zainichi Korean actor who feels he has a "38th Parallel at home." Third-generation zainichi Korean Matsue Tetsuaki looks squarely at the "identity crisis" felt by the new generation. A different version will be screened from the version marketed as an adult video.
---
Summer Vacation in North Korea
("Kitachosen no natsuyasumi")
---
JAPAN / 2005 / Korean, Chinese, Japanese / Color / Video / 73 min / Japanese subtitled version

Director: Ren Shujian
Editing: Imada Satoshi
Operator: Shimada Shinji
Source: Ren Shujian

In the summer of 2004, Ren Shujian entered North Korea via the Yanbian area as a Chinese tourist. During his overnight trip, he boldly took up the challenge of filming the current situation of North Korea and attempted to interact with many North Koreans, despite various restrictions. The three towns—Hoeryong, Rason and Cheongjin are underdeveloped compared to Pyongyang but offer rich natural landscapes. This film succeeds in bringing out the true faces of ordinary citizens in these regions.